Congratulations! You've decided to buy a home for the first time. Now you should do a bit of research to prepare for what to expect in the upcoming months. Check out the following tips to help you get started down the right path as a first-time home buyer.
Tip 1: Check Your Credit Report
When making any major purchase, your credit report will be carefully inspected to determine your credit worthiness and stability as a buyer. It's no different when buying a home. Home mortgage loan lenders want to make sure that you can re-pay the money they lend to you. Make sure your credit report is squeaky clean and ready for inspection by clearing up any errors and paying off delinquent accounts before contacting a lender. You can receive a free copy of your credit report once a year thanks to The Fair Credit Reporting Act.
Tip 2: Money in the Bank
Your home mortgage loan will cover the cost of the property, but you will still need to prepare some extra money for other expenses. Typically, there is a down payment (roughly 20% of the home purchase price) required by your mortgage lender. You should also expect to be responsible for closing costs, as well, which can vary between two to eight percent. Sometimes a seller will pay the closing costs as a part of the purchase agreement, but it is best to be prepared in case the seller of your new home does not choose to do so. Don't forget about the other expenses that will add up after your purchase has been finalized. Moving companies, utility deposits and furniture purchases are all costs that can sneak up on first-time buyers.
Tip 3: Find a Real Estate Agent
Thankfully, you don't have to travel the uncertain waters of purchasing a home alone. Using a real estate agent is a great way to avoid unnecessary stress, expenses, and delays. They are professionally trained experts in the field and can answer any questions you have. You will have access to homes within days of being listed, a personal negotiator, and professional representation by trusting in a real estate agent to help you find your new home.
Tip 4: Get Pre-Approved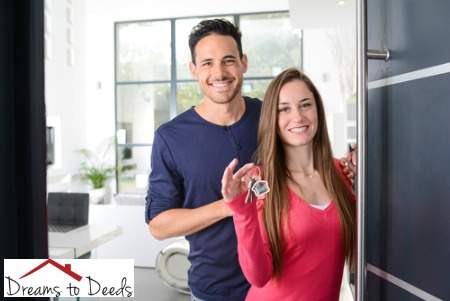 An excellent way to avoid falling in love with a house you can't afford is to apply for a home mortgage loan pre-approval before you begin your home search. A pre-approval will tell you exactly how much you can afford to spend on purchasing a home. Creating a target price range to stay within will keep you from overextending your finances when it's time to make an offer. A pre-approval also lets sellers know that you are fully prepared to follow through on your offer, which can tip the scales in your favor if you happen to be in the midst of a bidding war.
Tip 5: Make a Wish List
Chances are this isn't the first time that you've thought about what your dream home will include. Now is the time to put those thoughts on paper and create a list of qualities you'd like to find in your new home. Make a note of how many bedrooms/bathrooms there should be, what style of home you like, and the type of neighborhood. Go over the list with your agent and point out all the items that are non-negotiable for you so they have a better idea of which homes to pick out for you during the home search.
Tip 6: Be Patient
Buying a home doesn't happen overnight and could take several months to complete. Don't be surprised if there are a few hurdles to overcome that pop up along the way. Try to stay calm and trust in your real estate agent to guide you along the right path. Before you know it, you will be a brand new home owner!
Your real estate agent is the best source of information about the local community and real estate topics. Give Erica Stietenroth a call today at 979-574-4909 to learn more about local areas, discuss selling a house, or tour available homes for sale.